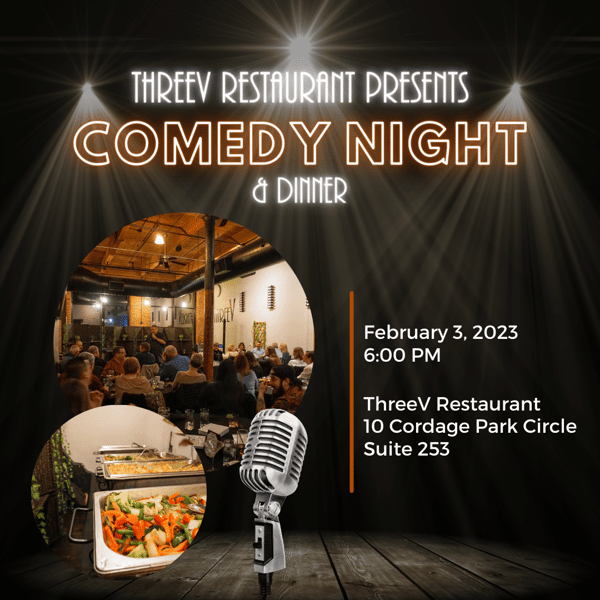 Comedy Night at ThreeV Restaurant
Back by popular demand is Comedy Night at ThreeV Restaurant! Purchase tickets at the link below.

Join us for dinner and laughs at ThreeV for Comedy Night featuring Dan Geurin, Mark Scalia, and Joe Holden! 

Meet the Comedians:

Joe Holden: Although Smokin' Joe Holden has been doing professional comedy for only a short period of time, he has exploded onto the comedy scene! He has recently opened for national headliners including, Jim Gaffigan, Caroline Rhea, Dom Irrera, Pablo Francisco, Bobby Kelly, Craig Shoemaker, Josh Blue, Aries Spears, Greg Proops, Steve Sweeney, Bobby Collins, and Colin Quinn. "Joe is one of the hottest, up-and-coming comics in the industry, who has taken the New England area by storm," said John Perrotta, comedian and owner of the Comedy Factory.

Mark Scalia: Mark has been a comedy favorite with audiences for over 30 years. From comedy clubs to Comedy Central, cable programs to hosting live events, he has entertained tens of thousands of people across the US and Canada. His material is funny, insightful and personable. He is able to craft his sets to include all ages. Mark has performed in many comedy festivals including Boston, Seattle, and New Orleans. He is the proud founder and host of the Salem Comedy & Spirits Festival, an annual event that brings a variety of talented comedians from across the US to historic Salem, MA.

Dan Geurin: Dan Geurin is the guy next door, who happens to be a stand-up comedian. His relatable material has made him a regular at east coast comedy clubs and a regular member of "The Not Too Far From Home Comedy Tour". He has also been a comedy writer for several celebrity roasts and corporate events. Geurin will show you how our everyday lives are funny and that you never really know what the guy next door is up to.

Dinner Menu:

Appetizers: Antipasto, Hummus and Assorted Cheese & Crackers
Entrees: Chicken Francaise, Baked Cod, Soba Noodle, Rice, Vegetable, Salad, Rolls
Assorted Cookies & Brownies

If you have dietary concerns, attendees may make separate purchase from the main restaurant menu upon a special request to your server.

$75 includes Comedy Show and buffet-style dinner with appetizers.

The event is open to attendees 18 years of age and older.

Please note that tickets to this event are NON-REFUNDABLE.
Purchase Tickets